A Valentine that lasts forever
Entry posted by Ginger ·
261 views


A Valentine that will never fade....better than roses, candy or even the finest of chocolate....


God has sent me on a mission.

I have some great news for you.

God has sent me to restore and release something.

And that something is you.

I am here to give you back your heart and set you free.

I am furious at the Enemy who did this to you,

and I will fight against him.

Let me comfort you.

For, Dear One, I will bestow beauty upon you

where you have only known devastation.

Joy, in the places of your deep sorrow.

And I will robe your heart in thankful praise

In exchange for your resignation and despair.

(Isaiah 61:1-3)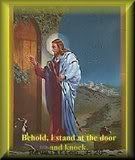 Behold I stand at the door and knock.

If anyone hears my voice and opens the door I will come in" (Revelations 3:20)


**Notice the heart ivy that surrounds the door...

that is to represent the door of your heart.

Also take notice that there is no doorknob.

Jesus will not force His way in but knock ever so patiently, so lovingly with hopes that the door of the heart will be opened to Him.

With invitation, He will enter in for salvation and then again and again as needed to heal all the wounded places within.



Won't you open the door to your heart this Valentines Day?

Jesus is knocking...