EDC + Personal First Aid Kit
---
Continuation of my survival preparations in the Urban/Rural mixed environment I am currently in. The everyday bag has gone under serveral variations based on who you ask. The EDC (Every Day Carry), the GHB (Get Home Bag), Bauer Bag (Taken from the TV Show 24, the man purse Jack Bauer carries), the Day Bag/Murse (Man-Purse).
Personally, it is the EDC for me...it contains everything I use in my personal life and professional life throughout the day. It also contains everything I would need if I was without the resources for food/water/shelter for two days.
First of all, is the bag.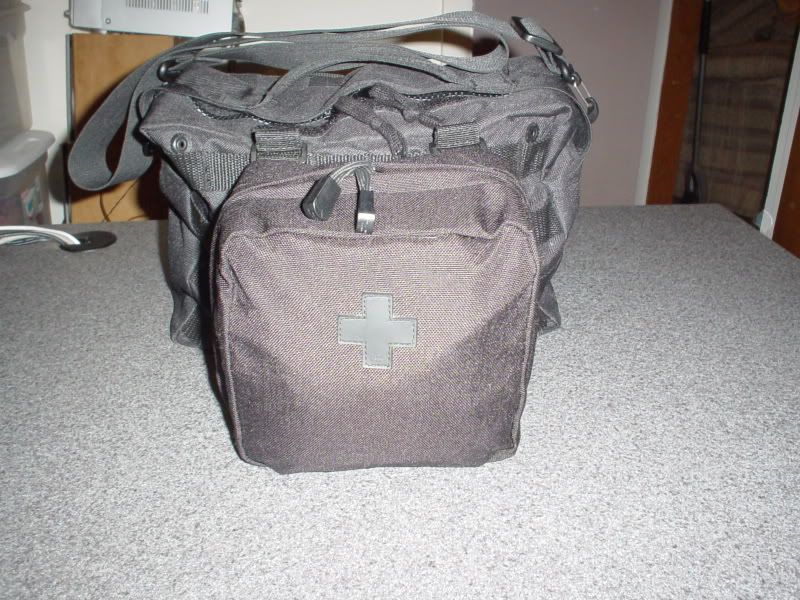 The bag itself is a County Comm EOD Mine Bag, it is a great bag for $20 and can be found at the following link. The bag comes with the MOLLE attachment system on both sides, allowing for modular attachment of external packs...as you can see, I have a medical pouch attached to mine (medical pouch will be covered in this article).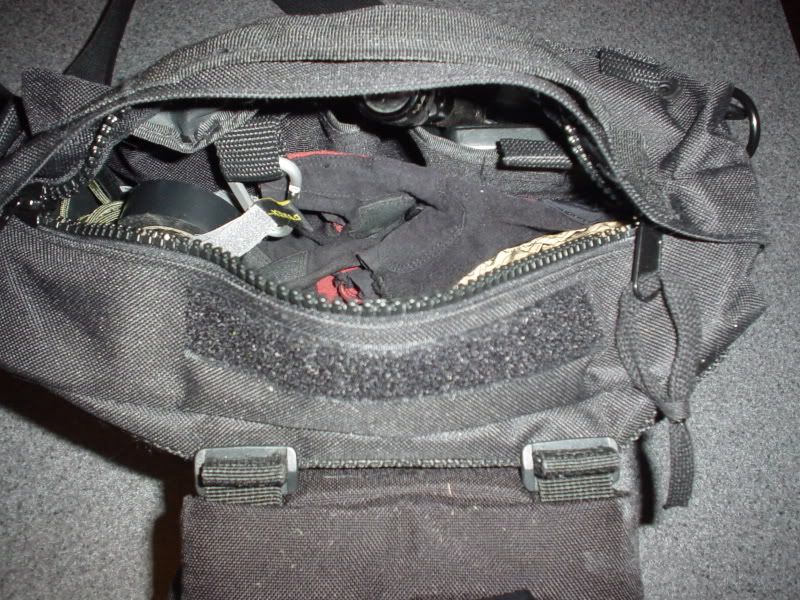 A peek inside. I removed a couple of items from the main bag compartment to make visualization easier. One is the Nalgene bottle seen in the picture below.
Contents:
Mountain House Beef Stew Pro-Pak
Nalgene 32oz Wide Mouth Bottle
LED Headlamp
My B.O.A.T.
Electrical Tape
Emergency Poncho
Chapstick
Water Purification Tablets
TI Calculator
Waterproof Matches
Lighter with 15ft of Duct Tape wrapped around it.
256MB USB Key
Compass
Pen & Pencil
Playing Cards
Bandanna
Mini-Maglight
Off Deep Woods Spray repellent
Benadryl Anti-Itch Gel
Work Gloves
AA Batteries (x2)
Can Opener/Bottle Opener
Lockpicks (kept in an old Leatherman pouch)
Winchester Folding Pocket Knife
Mini-Screwdriver Set
20' of 550 OD Paracord
Now, for the medical section of this EDC. Keep in mind, I am moderately trained in medical care in emergency situations. And equipment can never substitute for training and experience, but everyone should carry a first-aid kit based upon their skill level. Accidents happen, and sometimes...help is not going to be johnny-on-the-spot and you will have to intervene. Parents can really appreciate that fact...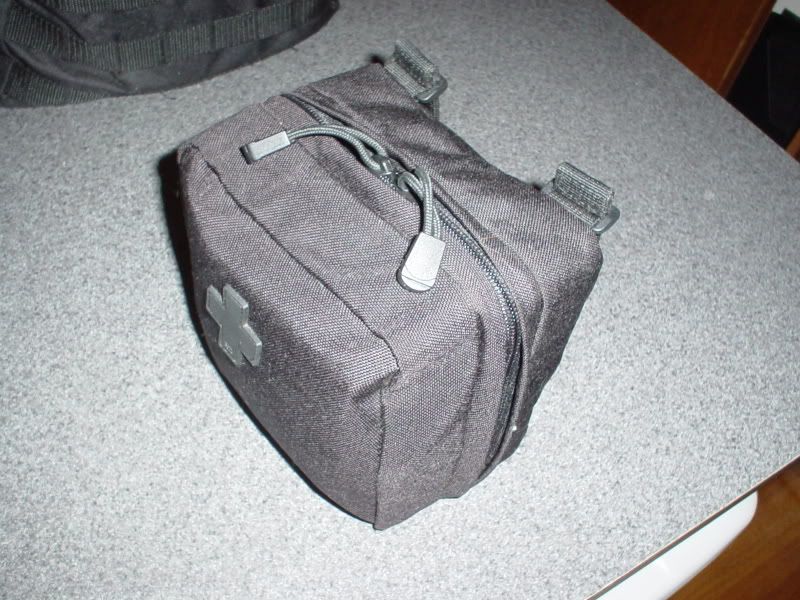 This is the 5.11 Tactical Medical Pouch, found at this link for $20, and it is a great pouch for the price. Anyone who has ever looked for first-aid solutions that do not scream out visibly "first aid kit" know that good pouches are hard to come by. Hopefully, the following pictures will turn some people on to this often over-looked solution.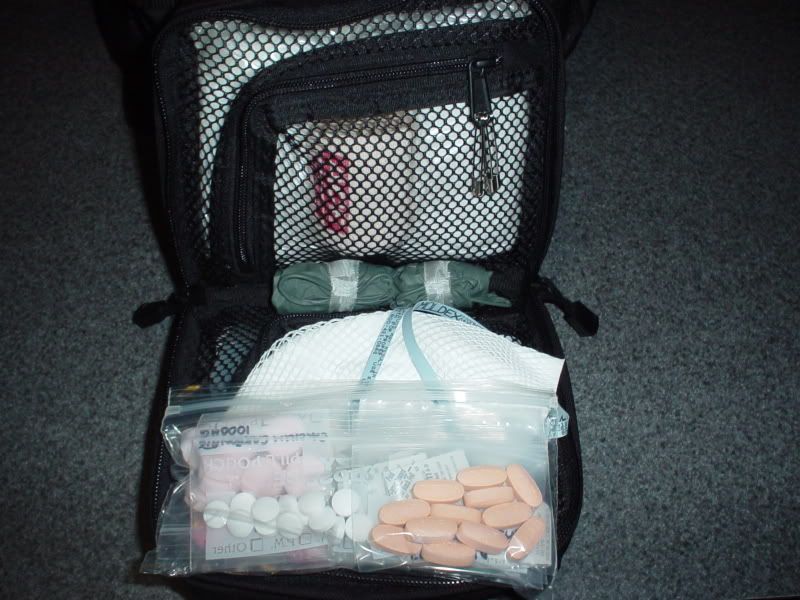 This is the IFAK (Improvised/Individual First Aid Kit) opened up. In the center, I have a pair of individually rolled latex free nitrile examination gloves. A ziplock bag full of other ziplock bags with individual meds within. And an 3M N95 dust mask. People ask, why the dust mask? Very easy answer...you never know. Remember footage from office building fires or even pedestrians trying to help after 9/11. They were running around with their shirts covering their faces because of dust/smoke in the air. Another reason is in traumatic injuries, blood-borne pathogens can easily get into your mouth or eyes in the case of open bleeds.
Center items removed.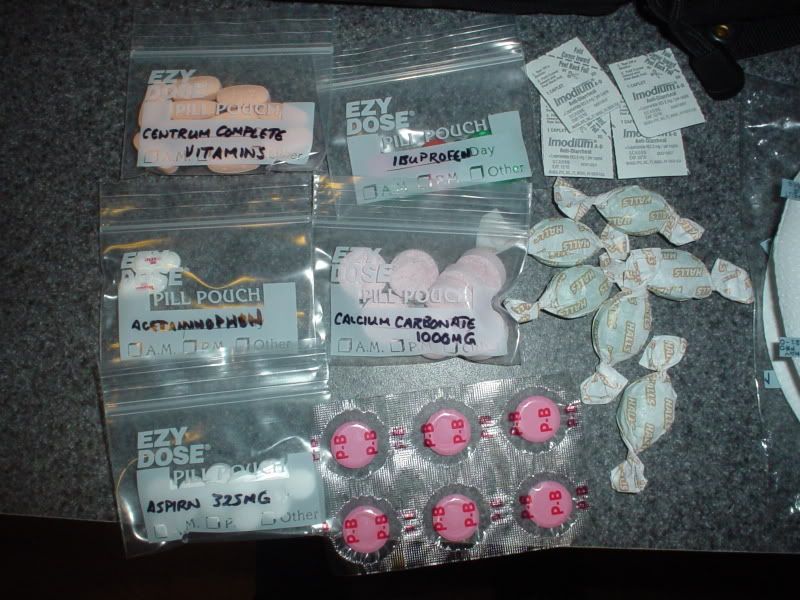 The meds...carefully selected to cover a broad spectrum of ailments that afflict us throughout our normal days. Everything from headaches to tummy aches, the sore throat or food-borne illness that causes rapid bowel evacuation (you know what I mean).
The front flap, aka...Normal Care.
As you can see, fairly comprehensive. Minor injury care mostly for cuts and burns. There are some items there for topological itch relief (anti-fungal and anti-histamine gels). Hand cleaner, glucose tablets for the diabetics I know, 3M Durapore tape...pretty much the best d**m bandage tape you can buy. Triple antibiotic, an eye dropper filled with normal saline wash (contact solution wash), a 20cc syringe (no needle) for suction, sunscreen, eye pads, alcohol and cleaning pads, an assortment of band-aids and butterfly strips, as well as a package of oral rehydration salts.
The Trauma Flap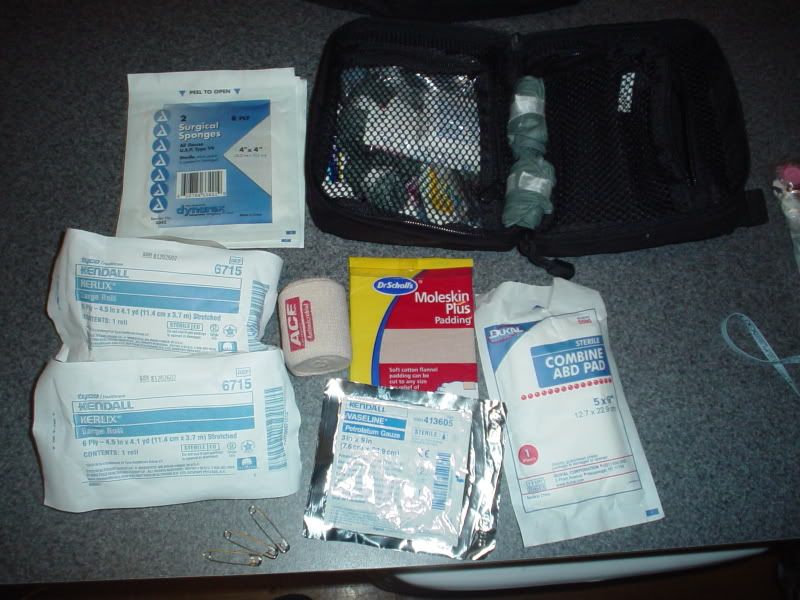 Two rolls of Kerlix 4.5"x4.1yds rolled gauze, great stuff...can be used to pack wounds and pad injuries. Two Kendall 5"x9" Petrolatum Gauze, this stuff is great for injuries to your skin...burns and bag scrapes. 5"x9" Abdominal Pads, these thing will absorb a ton of fluid, great for applying direct pressure to a badly bleeding wound. Dynarex 4"x4" Gauze Pads, five in total, pretty much for anything...bleed control, padding, cleaning, etc. Safety pins...because you never know. And a package of moleskin for blisters and abrasions.
This is one of the items I had to remove from my EDC so you could see the contents easily. This is the Ambu Res-Cue reusable CPR mask, can be found for a whole $10 from Chinook Med. This device has a one-way valve, meaning when you blow air into it (into the patient) the air does not come back out into your mouth. Also keeps you from having physical contact with someone who may make you a little uneasy about administering CPR to.
Remember...training first, CPR classes are offered for ~$50 from any of your local Red Cross or American Heart Association facilities. Extremely worthwhile for ANYONE...I highly recommend it.
Finally...the last item of my EDC. I leave it last because it calls for some explanation.
This is the Sig Sauer P226 9mm pistol. I leave this last in my listing for my EDC because there are certain conditions you must understand if you are planning to carry a firearm. First, check your State's firearm laws, many states will not allow you to carry a concealed weapon PERIOD, much less allow you to carry with a CCW permit. Luckily, I live in a state that allows both open carry, and concealed carry with a CCW permit. I have taken all the courses and registered my weapon with my State and I am legally permitted to carry my firearm in places that it is not explicitly denied (such as my workplace, banks, educational facilities, Federal/State offices, etc etc.).
A person's opinions on firearms and the enforcement of our 2nd Amendment Rights is their own. I choose to exercise my right to bear arms and I allow myself the dignity of self-defense without having to depend on law enforcement IF I ever found myself in a dangerous situation. I am fully educated on the laws and am fully aware of the possible ramifications of anything that happens with my weapon, and I accept that. If you want to do it, do it right...don't be a moron and put all this effort into a EDC system, worrying about possible survival scenarios just to be busted because you're carrying an unregistered concealed weapon. I have no sympathy for you.